Aurora Interface Update
Incremental release throughout June
Hello, LiveEdit customers! We have some awesome news that we'd like to share with you about our next update! Over the next month, LiveEdit will be conducting an upgrade to your LiveEdit user interface. We will be handling the upgrade in batches and each site owner will be given sufficient notice to ask questions and prepare before their site is placed in the update queue.
The New Edit Bar

When you log in to your site, the first thing you will notice is our new Edit bar. Because sites are vertically built, we wanted to give you back some of your prime workspace by moving the Edit bar to the left. The actual drag and drop elements are the same, but a lot of work has been done to improve the drag and drop experience from the Edit bar.
The Status Bar
We think you'll like the new streamlined Status bar. Again, our goal was to simplify and reduce the size of this area so we made it slimmer and chose very specific icons to help you navigate.

Profile Drop Down Menu

One of those icons takes you to your new profile dropdown. This will display your profile picture (if you have added one), and adds clean and easy access to other management areas of your site.


The Support Portal
Finally, we have also built a complete support portal which can be accessed by clicking the help option in the profile dropdown. The support portal will answer many, if not all of your specific site management questions! Packed with videos, how-tos, FAQs, and new feature details, this is a place worth spending some time just browsing! You will be able to search for your questions and are able to submit support tickets right from the portal.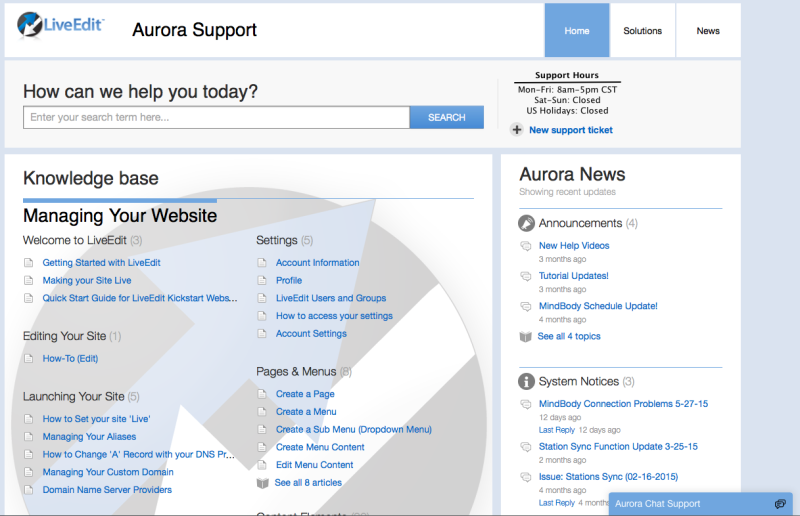 This is an exciting update and we can't wait to have you experience the new look and feel! Remember, you will each be notified of your specific upgrade window so no need to be concerned about when this will be happening.
Thank you for choosing Aurora!