Earlier last week, Google let the world know that they will begin updating their mobile algorithm on January 10th, 2017, to penalize/demote websites that use "intrusive interstitials" or as we all know them: pop-ups.
It's undeniable that mobile is the way of the future for a majority of LiveEdit subscribers, so to ensure that Google doesn't demote your website in their mobile rankings, interstitials (pop-ups) will need to follow a new set of rules. As stated earlier, you do have until January 10th, 2017, to make this change to your pop-ups.

Why Is Google Implementing This Update?
When a prospective client searches for your services and arrives on your website, they expect content directly related to that specific search. Although your content is still displayed on the site and is indexed by Google, having a pop-up appear that covers the whole page provides a poor user experience. This update seeks to not remove pop-ups entirely, but instead to use them in a way that will provide a great user experience.
You want people coming back to your website, right?
What Constitutes An Intrusive Interstitial (Pop-Up)?
In a nutshell, an intrusive interstitial is one that covers up the entire screen when a user arrives on your website, forcing them to view it rather than the content that they initially arrived to see. Here's how Google puts it...
Google's Examples of Intrusive Interstitials (Pop-Ups)
Showing a popup that covers the main content, either immediately after the user navigates to a page from the search results, or while they are looking through the page.
Displaying a standalone interstitial that the user has to dismiss before accessing the main content.
Using a layout where the above-the-fold portion of the page appears similar to a standalone interstitial, but the original content has been inlined underneath the fold.
Google's Visual Examples of Intrusive Interstitials (Pop-Ups)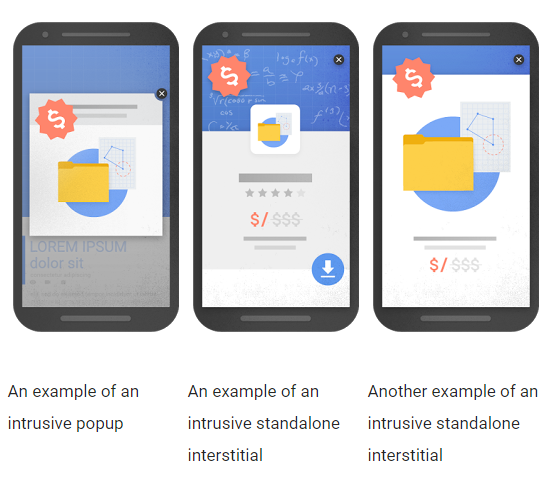 ---
What Types of Interstitials (Pop-Ups) Can I Use Then?
If you avoid using the above techniques and instead use the following responsibly, your website will not be penalized/demoted for using interstitials.
Google's Examples of Acceptable Interstitials (Pop-Ups)
Interstitials that appear to be in response to a legal obligation, such as for cookie usage or for age verification.
Login dialogs on sites where content is not publicly indexable. For example, this would include private content such as email or unindexable content that is behind a paywall.
Banners that use a reasonable amount of screen space and are easily dismissible. For example, the app install banners provided by Safari and Chrome are examples of banners that use a reasonable amount of screen space.
Google's Visual Examples of Acceptable Interstitials (Pop-Ups)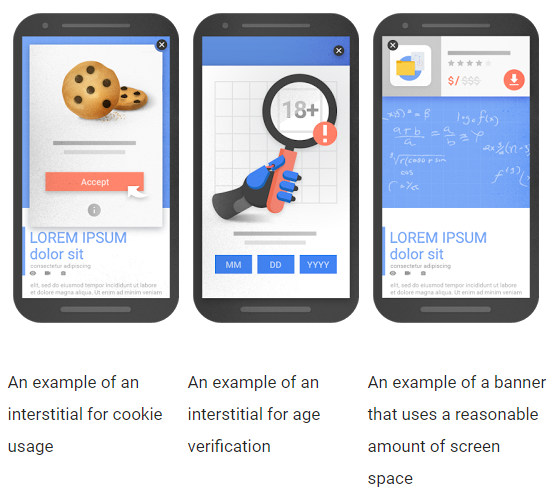 ---
What's My Next Step?
At LiveEdit, we want to make sure our subscribers are prepared for the mobile interstitials war of 2017 that's fast approaching (Algorithm Update Takes Effect on January 10th, 2017). If you would like to get your current pop-ups updated on your LiveEdit website for this upcoming mobile revolution, or alternatively, you would like to begin implementing mobile friendly & Google approved pop-ups on your website, contact your LiveEdit Account Specialist or email us at sales@getliveedit.com today!
Comment your thoughts below and let us know what you think about Google's new mobile algorithm update and as always, follow us on Twitter or like us on Facebook to stay up to date with all things LiveEdit!